The Fanny Chronicles
You may have noticed a cuddly, lovable, furry rat on these pages, occasionally making quips along the margins. Her deep, pleasure-addled eyes, winsome smile, and fetching brain implants have been turning heads since she became our mascot this spring. Let me explain.
Way back in April, 2002, when the world was young, I posted a fairly standard (for me, I suppose) riff on some exciting new things that were coming to the site. Along the way I invented "Fanny, the Fanatical Apathy mascot." I had no further plans for her at the time.
One month later, however, the honest-to-god science story about a newly-developed remote controlled rat grabbed my attention, and Fanny was born. Well, in truth it wasn't 'til a few days later when gifted cartoonist Rick Schmitz sent me his first Fanny drawing that she was truly fleshed out.
Fanny fans can, as always, buy their official goods over at the Fanatical Apathy Store.
Below you'll find the more-or-less complete history of Fanny-related posts. At some later date I may add in some of her better moments, but for now you can find her best wit in the Archives, starting in May, 2002.
Thursday, April 11, 2002
Fanatical Apathy Welcomes its 10,000th Visitor

Okay, ten thousand isn't really all THAT much by web standards. And I'm not so naive as to think that this represents 10,000 different visitors to this site (which, now that I think about it, would be pretty darn depressing anyway...). But it's a milestone nonetheless.

Here at F.A. we always strive to bring you the highest-quality web experience possible. And don't think we haven't been reading your suggestions! In the months to come, we expect to enhance the F.A. experience significantly, while still retaining the quality and feel you've come to expect. In May, we'll unveil the F.A. Museum, chock-a-block with Curios and Wonders from around the world. June will see the opening of the Fanatical Apathy Boutique, where you'll be able to buy great F.A. apparel and gift items (many featuring our cuddly new mascot, "Fanny"). And if all goes well, in July we'll be opening up a brand-new olympic-sized swimming pool, right here on this site! Stay tuned, dear readers, the best is yet to come.

posted by Adam Felber on 3:11 PM
Thursday, May 02, 2002
Have We Found Fanny?

You might remember that on April 11th (see the Archives) I made reference to Fanatical Apathy's cuddly new mascot, "Fanny."

Truth to tell, at that point Fanny was but a concept. Here at the F.A. home office, we immediately went into a veritable frenzy of brainstorming meetings, artists' conceptions, focus groups, and demographic research to ensure that when "Fanny" appeared, she'd be a truly representative, cuddly, and eminently marketable mascot.

Today, out of nowhere, she simply appeared. Ladies and gentlemen, I give you Fanatical Apathy's mascot, Fanny: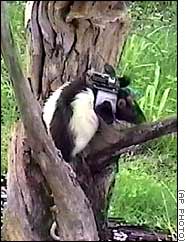 As you may have already heard, Fanny's a remote-controlled rat. She's cute! She's alive! Her motor functions can be easily overridden by anyone with a garage door opener! Watch this space for many exciting "Fanny" products to come!

[note: any so called "news items" which imply that Fanny is male and/or not named "Fanny" are just the result of sheer jealousy that WE signed her first.]



posted by Adam Felber on 6:42 PM
Wednesday, May 08, 2002
Fanny says, "Kids - Electronically administered pleasure stimulus is fun!"

Fan. Ap. fan finds Fanny! Reader Rick Schmitz has supplied us all with an extremely cuddly and marketable picture of Fanny, the Fanatical Apathy mascot, taking a quick bliss-break between acts of heroism.

I realize that this may be inscrutable to the legions of you who are dropping in via Google on a quest to find music to blow up mailboxes by, and that may be for the best. But I think I can say definitively that if Luke Helder had had a positive role model like Fanny in his life, none of this would have happened. We could have prevented the violence, and perhaps even turned him away from music before it was too late.

Here then, in a shrunken, web-friendly form, is everyone's favorite remote-controlled rescue-rat:

posted by Adam Felber on 1:35 PM
Friday, May 10, 2002
The nerve! The gall! The utter cheek! William Saletan over at Slate has written a piece disparaging Fanny and her cyborg rat kin!

You know what this is about, of course. Microsoft, which owns and operates Slate, is already feeling threatened by Fanatical Apathy because of our outspoken criticism of them and our unlimited earnings potential. Oh yes, yes they are. And now that we have a cuddly, franchise-friendly mascot (something that they've never managed to do, by the way, unless you like primitively-drawn butterflies or paper clips!), well, they've set out to destroy us! Note that the piece also features a crude caricature of Fanny, obviously ripped off from Mr. Schmitz's fine work. They've made a cheap, less-appealing version of Fanny and are using their vast resources to push her through to the consumer! Hmmm... sound familiar?

Rest assured, dear readers, Fanatical Apathy will weather this one out. This will not stand. Or sit. It'll just have to lie down or go away. Or something. You know what I mean - I'm overwrought.

As for the merits of any of the so-called scientific or ethical arguments in Mr. Saletan's mercenary hate speech against electro-rats, I'll let Fanny herself handle that one.

posted by Adam Felber on 4:59 PM
Monday, June 17, 2002
Get Some Fanny!

America's favorite remote-controlled rescue rat/cuddly web mascot, Fanny, can now come to your home without the messy inconvenience of setting your house on fire. Just visit the brand-new Fanatical Apathy Online Store to order your T-shirts, coffee mugs, and ratpads.

Put together by F.A.'s artist-in-residence Rick Schmitz, the store is merely the next phase in the fullscale marketing assault that you can expect from Fanny and Fanatical Apathy. These lovely, tasteful pieces of merchandise will be instant collector's items, quadrupling in value every 10 days or so (according to our latest projections).

In other news, the Fanatical Apathy Theme Park ("FannyLand") is progressing apace. Some of the rides are near completion, including the "Wartime Spin," the "Haunted House of Representatives," and "John Ashcroft's Tunnel of Terror." Stay tuned for details!

UPDATE: For you new fans who've been asking about Fanny, she's been our mascot since early May, when this news item hit the media. My initial posts concerning this can be found in the archives (April 11th was when Fanny was first discussed, May 2nd was when it became clear that we'd found her...).

Though the initial choice may have been a bit random, it's becoming clear to me that a semi-robotic rat that responds to electronic pleasure stimulus is indeed a dandy metaphor for this site and our times. It captures the zeitgeist better than any soft drink could ever hope to (though I still maintain that "Zeitgeist Cola" is a hit waiting to happen).



posted by Adam Felber at 12:07 PM
Comments by: YACCS